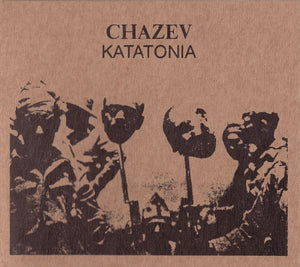 NARCOLEPSIA
Chazev - Katatonia CD
Regular price
$11.00
$0.00
Unit price
per
Reissue - Obscure solo venture of Heinz Christian Wilp (founder of Der Schwarze Kanal, as well as ZU guitarrist and occasional member, as percussionist, of Das Synthetische Mischgewebe), which was active from 1984 to 1987.
"Katatonia", originally put out by italian cult label ADN (as the Zona Industriale reissue in this batch), is probably the release most people associate with the project, and an absolutely essential document of 80s tape culture that Narcolepsia is very proud to unearth in this new format.
Enshrouded in the thick darkness of the postmortem era, this is a classic that contains every element to satisfy worshippers of those inimitable early days: diluted rawness and sinister vibes echoing throughout its entire length, in a spiral hypnotic descent into abyssic primitivism, spawning solemn and archaic rituals exhumed from forbidden regions, a macabre incursion into the saturated hiss of pure negativity.
Label: Narcolepsia
Genre: Industrial, Power Electronics

Released: 2020
---