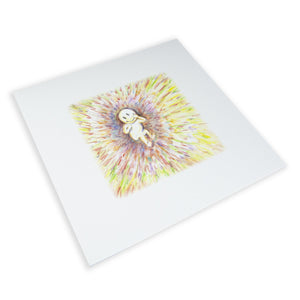 PSYCHIC LIBERATION
Ñaka Ñaka - Acid For Babies LP
Regular price
$20.00
$0.00
Unit price
per
Psychic Liberation proudly presents Acid For Babies, the latest full-length from Mexico-based artist Ñaka Ñaka (AKA Jeronimo Jimenez). Acid For Babies is a glistening invitation to an environment of minimal complexities. Its textures and repetition were fine-tuned to soothe or delight a baby's ear — specifically, that of his new daughter. "No babies were exploited in the making of this album," Jimenez notes.

This record marks the first release Ñaka Ñaka — Jimenez's club music alias — has contributed to the Psychic Liberation discography. The playful, unassuming tracks are one-take tape recordings from hardware instruments. The album is bookended with an interpretation of Raymond Scott's little-known final composition: a piece for MIDI titled "Beautiful Little Butterfly."

Jeronimo Jimenez is a Mexican musician best known for his stage name Ñaka Ñaka. In 2011 he self-released his first EP, El Pequeño Edgar, and began playing extensively throughout Mexico City's underground. The following year he moved to New York, where he performed regularly and recorded albums for local labels like Bánh Mì Verlag as well as foreign outposts such as Opal Tapes and its offshoot Black Opal. He founded his own label, Pauf Recordings Ltd., and launched his new moniker Jero Route 66 following a whirlwind eight-day tour of eight countries across Europe with die Riehe in 2016.

He soon became a regular performer and collaborator at Far Rockaway, NY's legendary experimental music venue Red Light District. After nearly a decade in New York and a brief one year stint in Buenos Aires, he moved back to Mexico, where he currently resides with his wife and daughter. 

Label: Psychic Liberation
Genre: Experimental, Techno
Released: 2021
---