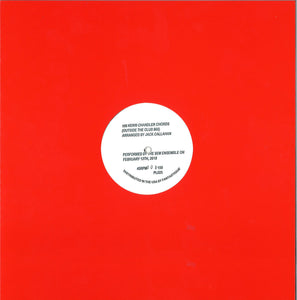 PSYCHIC LIBERATION
die Reihe - 106 Kerri Chandler Chords 12"
Regular price
$13.00
$0.00
Unit price
per
"106 Kerri Chandler Chords" reflects the conceptual and archival obsessions of an artist committed to acting as an intermediary for the work of others. Compiling 106 chords by the legendary house music DJ and producer Kerri Chandler—and arranging them for string quartet, performed live by SEM Ensemble—this record by die Reihe presents a feedback loop of context and content, resulting in an entirely new work. Elemental and diffuse, yet compositionally cohesive, the presentation of single chords, each on their own, works to both wither and embellish the source of their creation. "106 Kerri Chandler Chords" is a road that encourages hours of meticulous listening, ending in a space where die Reihe, SEM Ensemble, and Chandler are all mysteriously both present and absent.

die Reihe is the moniker of NYC based composer and sound engineer Jack Callahan. Taken from the journal edited by Herbert Eimert and Karlheinz Stockhausen, die Reihe makes work that often examines and abstracts a single musical element, from the functioning of a vocoder to the harmony of house music. With this project he has toured the both the U.S. and Europe multiple times, been invited to numerous festivals and has released music with labels such as anòmia, Ascetic House, NNA Tapes, and Salon. In 2013 he founded Bánh Mì Verlag, an imprint dedicated to contemporary experimental music and culture.


Label: Psychic Liberation
Genre: Experimental
Released: 2019
---