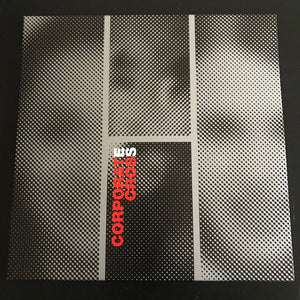 HOSPITAL PRODUCTIONS
E-Saggila ‎- Corporate Cross 2xLP
Regular price
$30.00
$0.00
Unit price
per
An enigmatic cult producer in electronics constructing soaring calm from dynamic turbulence as the era of domesticated destruction and creation arrives. conceived by iraqi-born, canadian sound artist rita mikhael, e-saggila has quickly established itself as an unapologetic presence in superseding divisionism in underground music. with prior crucial releases on northern electronics and bank records, the project quickly gained attention among the disparate factions of noise, breakcore, and infrastructure rising outside of the traditional european club superstructure. after delivering a commanding and highlight performance at the 2019 Hospital Fest, e-saggila forged an alliance with hospital productions and now presents her label debut corporate ross, an intricate multifaceted double album that requires introspection with its wide spectrum of emotion, coldness and light that defies definition. combining elements of breakcore, ambient, contemporary composition and twisted rhythms, the album provides a deep headphone listen that can function both as elemental elevation or wreck any club system. heavy cut-up bass is immediate and but never overrides detailed abstract melodic hooks. e-saggila creates music that coexists on the dance-floor, the car stereo and the bedroom bookshelf speakers, simultaneously and seamlessly. Written and produced by e-saggila, the composer took inspiration from social anthropologist mary douglas, particularly in regards to her concepts of "dirt" which associates dirt as a form of disruption to order. e-saggila takes this concept in compressed surreal washes of melodic noise and merciless drum building hierarchy deconstruction. 
 in the artist's own words--- 
 "this album is a framework of placement and displacement of what I recognize as organic and instinctive. The constructed sounds draw a parallel between primalism and mechanization, where structure and disorder mimic themselves through these titles. a lot of these ideas are based off of the environment I come in contact with and the familiar expression and tone that is set into this album. It's a narration of transparent rhythms and patterns I see as natural, but to the listener is observed as ambiguous. corporate cross scans through the themes of novelty in human and animal, endemic and deterioration, and the sub-systems of our concealed environment." 
 throughout these concise and powerful nine tracks, melodies and textures juxtapose with sound events for a euphoric convergence. each track maintains and explores a different facet of sound while maintaining an overall arc that grips the listener from start to finish, a true narrative without the 'ambient' filler that proliferates currently. While many electronic albums conjure a specific time/place, e-saggila transcends into vast possibilities. corporate cross sets a contemporary milestone for future disruption. mastered by josh eustis. deluxe wide spine jacket with metallic printing. ed splatter edition of 100. includes digital download code.
Label: Hospital Productions
Genre: Experimental
Release: 2020
---