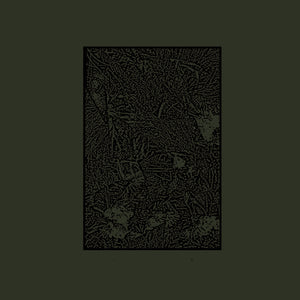 ABHORRENT A.D.
Evenings - Wormwood CD
Regular price
$12.00
$0.00
Unit price
per
In the early 2000s there were several great (now classic) Evenings releases on labels like Chondritic Sound, Ekhein, Monorail Trespassing and his own Tapeworm Tapes imprint...these have been my go-to late night listening for the past decade.

With it's super muddy, snail-paced build ups of hazy lo-fi rumbling drones...it is quite literally the ideal noise for evening listening.

He had a way of taking the sound and approach of early HNW and making it more hushed and mellow, as if you were hearing it from a different room or in the kitchen above his cold, dark, Michigan basement.

Between 2006-2008 Miles Haney was totally dialed into his own restrained, sluggish, singular sound, standing out amongst his peers in the more free jam post-Wolf Eyes era or the fast and aggressive "Americanoise" renaissance.

Meanwhile, Miles was busy creating what I consider to be the prototype and foundation for what later became known as "Ambient Noise Wall", only he did it before there was a name for it.

I honestly don't think he had any idea how influential this type of sound would become in later years, but the influence is undeniable and it's a sound I personally crave and need as a come-down/break from the more abrasive listening that occupies a lot of my time.

I can say, without a doubt, this is one of my favorite noise projects of all time and I am beyond thrilled to finally unearth and share this material with Evenings fans old and new.

The first two tracks are from the original tape released by AAD back in 2007, and the last four tracks are all unreleased material recorded around the same time period. 
Label: Abhorrent A.D.

Genre: Noise
Release: 2022
---