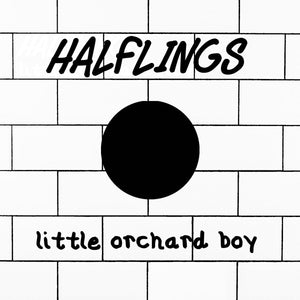 PSYCHIC LIBERATION
Halflings - Little Orchard Boy 12"
Regular price
$13.00
$0.00
Unit price
per
Halflings, the electronic music group of Jeremy Nissan and Ryan Woodhall, was started on Long Island NY in 2005 as a direct response to their suburban upbringing. The duo's background in DIY punk and their obsession with raw sound led to a distinctly compositional and live approach to harsh noise and power electronics. As teenagers, Halflings caught the ear of Ron Lessard, who released their first full Length LP Self Esteem on RRRecords. 

Over the years the band has pushed the structural element of their work to the forefront, fusing extreme sound with pop, prog, and electronic dance music. Halflings develop each album thematically, often writing lyrics from a first-person perspective as a means to gain understanding of their subjects as well as their own psyche. 

Little Orchard Boy was conceived as a concept album born from their shared formative experiences of sexuality & masculinity. It should be no surprise that the record digs into the band's early encounters with New York night life. A distinct NYC dirge permeates the raw funk grooves spanning the album. The 3 tracks featured on Little Orchard Boy were initially composed for live performance before being put to tape in 2019. The EP marks an evolution in Halflings' sound; While the band's style of noise has always exuded musicality, Little Orchard Boy introduces a more streamlined usage of melody and song structure. The album's complex drum programming and subtle studio techniques showcase Nissan's background as a drummer and Woodhall's background as a producer respectively, but the true power of the sound lies in the duo's shared musical vocabulary that they've developed over the past two decades.

Primitive Languages/Psychic Liberation concludes it's year span of amorphous output with Little Orchard Boy. Marking the final chapter in the output of the label formally known as Primitive Languages, which created the lane for the new undertaking of Psychic Liberation.

Label: Psychic Liberation
Genre: Experimental, Noise
Released: 2020
---