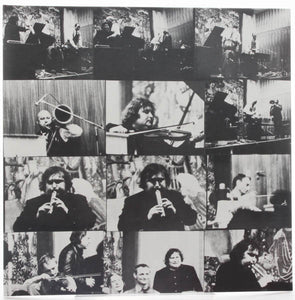 TOCHNIT ALEPH
Selten Gehörte Musik - Das Münchner Konzert 1974 2xCD
Regular price
$20.00
$0.00
Unit price
per
REISSUE - Selten Gehörte Musik is a group project by artists from the Wiener Gruppe; Gerhard Rühm, Oswald Wiener, and Dieter Roth, who gathered together in Berlin in the 1970s after leaving Vienna, in part, because of scandals incited by their art. The project began as a spontaneous form of musical interaction born during their workshops which, without being restricted to any one field of the arts, fostered creative production of a totally pleasure oriented kind. Initially, it was just recorded on audiotape, but by 1974 they began to make public appearances in collaboration with the Vienna Actionists, and other artist friends. Selten Gehörte Musik can be viewed as an early example of the free, and in part intentionally dilettantish interplay of avant-garde artists, blurring art mediums, sound, and performance into their works. 
This is the third in a series of reissues of the legendary Selten Gehörte Musik records by Tochnit Aleph. Originally published as a 3xLP Box Set in 1975, the Münchner Konzert 1974 is performed by an all star avant-garde artist line up of Dieter Roth, Gerhard Rühm, Oswald Wiener, Hermann Nitsch and Günter Brus. Double CD packaged in full colour LP gatefold sleeve reproduction of the original artwork, with printed inner sleeve,

 and 42x59cm reprint of the original concert poster by Günter Brus. Edition of 500 copies.
Label: Tochnit Aleph
Genre: Sound Art, Experimental, Avant-Garde
Release: 2015
---