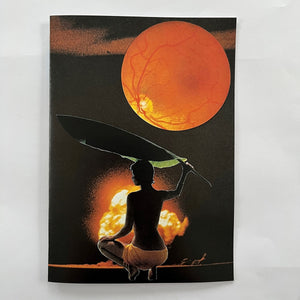 SATATUHATTA
Various Artists - Mixed Noise Soup Vol.1 CS
Regular price
$11.00
$0.00
Unit price
per
Moozzhead - MILF Command Til War
Corral Shut - Rub It To Dry
Primitive Wings - Raised By Reptiles
Amek-Maj - Rumble
Resting Place - Down There...
H.Ö.H. - Puhekyvyttömät elementit
Tyhjä Pää - Burnout And Repeat
The New Boyfriends - E.T.I.
Mogao - Skulltunnel
Umpio - Karstanen
Scrap Furnace - Radiant Praxis

Satatuhatta is proud to present Mixed Noise Soup Vol.1, the first chapter in Satatuhatta compilation series. All tracks are new and made for this release. This cassette-only compilation comes with 16-page A5 sized art booklet accompanied by track-by-track visual art made by artists involved.

There are both old and new names in this compilation, highlighting the current state of Finnish noise. Scrap Furnace, Corral Shut and The New Boyfriends are in charge of handling scrap metal and various moving objects, while Moozzhead and Mogao brings the joyful approach of harsh pedal noise in the mix. Amek-Maj rumbles heavily with his textural lock picking and Tyhjä Pää dives head straight in to realms of violent cut-up junkdrome. H.Ö.H. kneads the dough with his tangible tape loops and Umpio shows the noise skills that are matched by very few in this world. There are also two new projects with debut tracks to present. Slowly churning industrial haze by Resting Place and fast paced prehistoric reptile chase happening in the verdant undergrowth by Primitive Wings. 
Label: Satatuhatta
Genre: Noise
Released: 2023
---